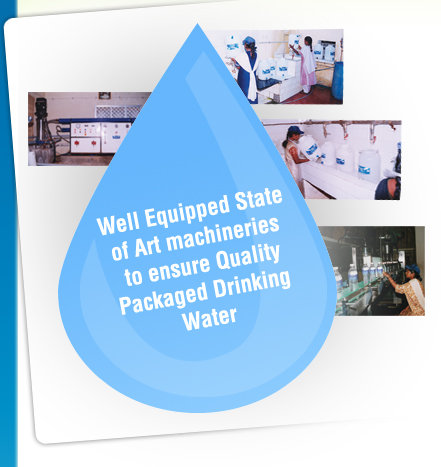 Spa Packaged Drinking water comes to you from the trusted house of SpaAqua Products India Pvt Ltd, established in 1997. Distributed by Lotus Marketing, Spa Packaged Drinking water enjoys the patronage of a rich clientele which includes the likes of Hyundai, BSNL, Central Bank of India,Chennai Customs Office, Allahabad Bank and Indian Overseas Bank.

Spa Packaged Drinking Water comes with the assurance of Quality and utmost purity. We are dedicated to providing safe drinking water to all our customers and this is ensured using a 6-step stringent water purification process including Reverse Osmosis and U.V. Treatment. Chemical and Microbiological Tests are a part of our sophisticated mechanism of Quality Control. Our testing methods are compliant with ISI standards and done using state of the art machinery.

With a production capacity of 50,000 L/Day and a growing base of customers, Spa Packaged Drinking water is a name you can rely upon. Our packaging quality is also at par with industry standards. We supply in 20 Ltr BT Cans, and in bottle sizes of 300ml, 500ml and 1000ml. Enjoy purity in every drop of water with Spa for your good health.